Dushtha Shasthya Kendra (DSK) is a non-government voluntary development organization (NGO) operating to eliminate impoverishment of the targeted poor population in hard-to-reach remote areas (WetLand, Coastal Belt, and urban Slums) of the country. The organization's aim is to remove the poverty of the people, make them self-dependent, and make them aware of their own rights.
| No. of places operating | Households reached | Operating places (Urban) | Operating places (Rural) | No of Employees | Gross Budget |
| --- | --- | --- | --- | --- | --- |
| 116 Upazilas (sub-districts) of 17 districts through 150 field offices | 840,000 households accommodating approximately 4.2 million people | Dhaka, Chittagong, and Khulna cities | Jamalpur, Mymensingh, Netrakona, Sunamganj, Kishoreganj, Gazipur, Narshingdi, Narayanganj, Munshiganj, Satkhira, Jessore, Barguna, Bagerhat, and Cox's Bazar. | 2,732 [Female: 1084 & Male: 1648 (July 2020) accordingly]. | BDT 17,611,041,524.00/ USD 206,608,336.40 (2020-2021). |
Following this dream, an effort initiated by a group of people like professionals, doctors, and social activists who came forward voluntarily to facilitate Primary Health Care (PHC) activities under a cost-free health clinic named "Niramoy Free Friday Clinic" operating in slums in Tejgaon of Dhaka city in the mid-1980s. Consequently, during the great flood in 1988, DSK carried out a number of free healthcare service camps with a Medical Team to provide immediate relief and health care to flood-affected people in Dhaka city. At this stage, DSK as an organization became formalized and got registered as an NGO with the Directorate of Social Services (#: Dha-02273) on 24 April 1989 and in 1991 with NGO Affair's Bureau (No 571). Besides, DSK received a license from the Microcredit Regulatory Authority (MRA No 02100-01985-000369) in 2009.DSK did also implement a PHC program from 1996 till 2012 (it continues to support the hospitalization cost of its MF borrowers and their family members to date).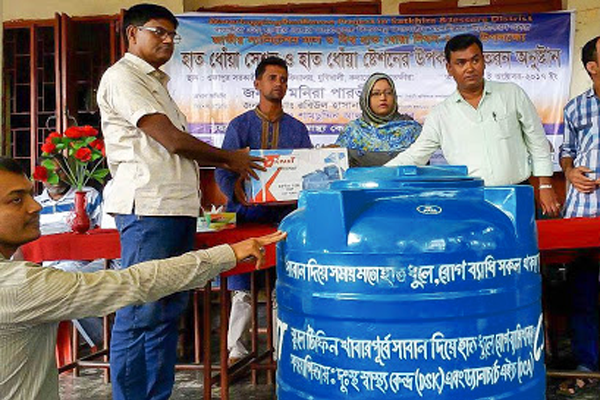 Seven Themes Of DSK
Major Interventions

DSK Health Care
Water, Sanitation, and Hygiene (WASH)
Relief & Rehabilitation
Disaster Risk Reduction (DRR) & Climate Change Adaptation (CCA)
Microfinance
Education
Advocacy on people's rights, access to basic services, and Gender.

Poor peoples' economic empowerment through Micro Credit Program
Development services and awareness-raising through Projects.
Hospitals- an affordable hospital services for the low-income population and middle-income group
Address
House No – 741, Road No – 09
Baitul Aman Housing Society
Dhaka – 1207, Bangladesh
+88 (02) 9128520, 58151176, 55010253
88 (02) 8115764 Ext 123