DSK Hospitals & Maternities
DSK started its journey with a primary health care project for the urban poor (slum dwellers) in the mid-eighties. At present, healthcare is one of the major focuses of DSK's development programs. Beside promotional and preventive health care services (WASH and SRHR), DSK has been operating three health centers to provide secondary health care services to low and middle-income communities.
DSK Hospital, Dhaka
DSK Dhaka Hospital was established in 1999 to provide secondary (clinic based) healthcare services at an affordable cost to low-income population and lower middle- income groups. The hospital was organized at a rental venue in Mohammadpur, Dhaka with financial support from Swiss Red Cross (SRC). SRC supported hospital activities for five years. After the closure of that grant period, from 2005 DSK started to continue hospital functioning through the use of its resources. The hospital is functioning with license and legal permission of concerned government agencies and departments.
DSK Hospital is located in its five-storied building. It has twenty two general beds including 3 AC cabins & 2 non ac cabins. It structurally contains two operation theatres with necessary modern medical equipment with 2 Japanese anesthesia machines, a laparoscopic machine, post-operative room, emergency OT cum labor room, and specialist doctors' chambers. 52 staff along with 3 regular specialists including 1 Obstetrics and gynecology, 1 Diabetes & medicine, and 1 child & medicine. There are more than 50 on-call consultants ensure quality services at the hospital.
2022-2023 Fiscal Year
Served 8070 patients
5478 outdoor patients
2069 indoor patients
763 ultrasound investigations
791 X-ray investigations
3158 patients visited the laboratory
13061 lab tests
1317 different operations
438 ECG and eco patients
Special services of DSK Hospital are
Maternity services are being provided by a team of skilled midwives and support staff under the leadership and guidance of a qualified Gynaecologist at reasonable package price of Tk. 1,500 for normal vaginal delivery (NVD) and Tk. 11,000 -15,000 for Caesarean Section.
To promote safe normal delivery, DSK Hospital offers NVD to women from low-income communities at free of cost with support from the Rotary Club of Dhaka Buriganga (RCDB). DSK Hospital also provides maternity services to patients referred by BRAC Urban Development Project under a MoU signed between the two organizations.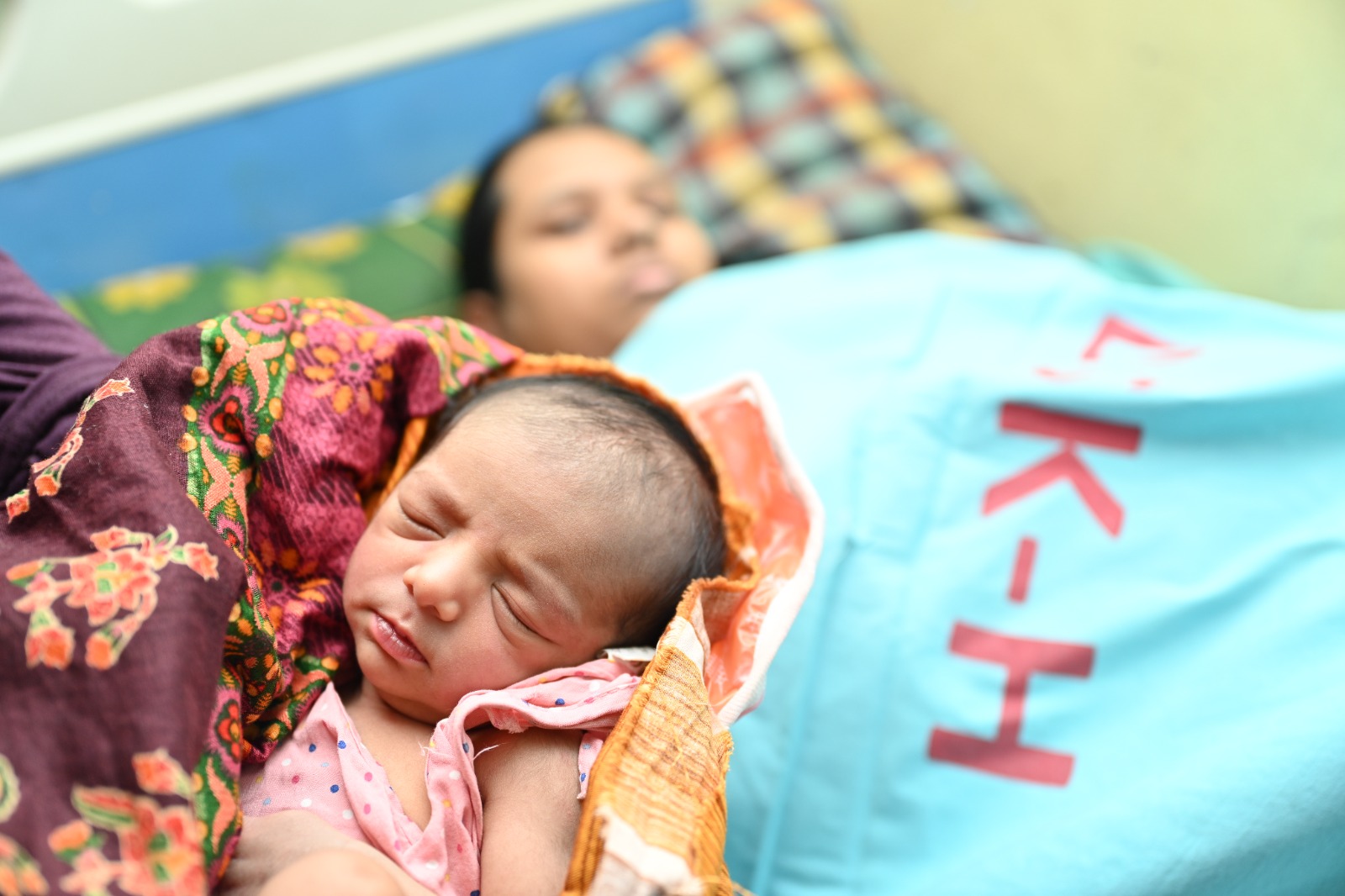 Members of DSK Micro-credit program and their eligible family members receive treatment at DSK Hospital under a referral system with re-imbursement of up to Tk. 12,000 of their treatment cost as Micro-Health Insurance Policy of DSK MC Program.
A Complain Box is installed in a front place in order to get feedback from patients/attendants.
An exit interview system has been introduced using a structured questionnaire at the time of patient release regarding the quality of services, cleanliness, and responsiveness of staff member
Cardiology
Consultation services by qualified and experienced consultants on Medicine and Surgery
Diabetology
Gastroenterology:
General, Laparoscopic & Colorectal surgery:
Gynecology
Hematology
Nephrology
Neurology
Obstetrics
Oncology
Orthopedics
Outdoor and indoor and investigation services inclusive of Laboratory, X-ray, and ultrasonically
Pediatrics
Pulmonology
Radiology and Imaging
Rehabilitation Services
Skin
Specialist counseling
Urology
24 hour ambulance
DSK Matri Sadan and Laboratory, Durgapur, Netrokona
DSK Durgapur Matri Sadan and Laboratory was established in 2007 to provide healthcare and maternity services to local populations at a low cost. It is open for 24 hours. The hospital is located in its own three-story building. Now it is a 16-bed hospital managed by a team of 25 committed staff. Physical facilities include male and female wards, cabins, an operation theater with modern equipment, and a post-operative room.
Healthcare services include outdoor service, indoor service, adolescent health, maternity service, operations, ultrasonography and pathology services. The hospital is functioning with the license and permission of concerned government agencies and departments. Initiatives have been taken to strengthen facilities, such as the installation of digital X-ray and Lift which is in process. To promote Safe Normal Delivery, NVD is offered free of cost to women from low-income families.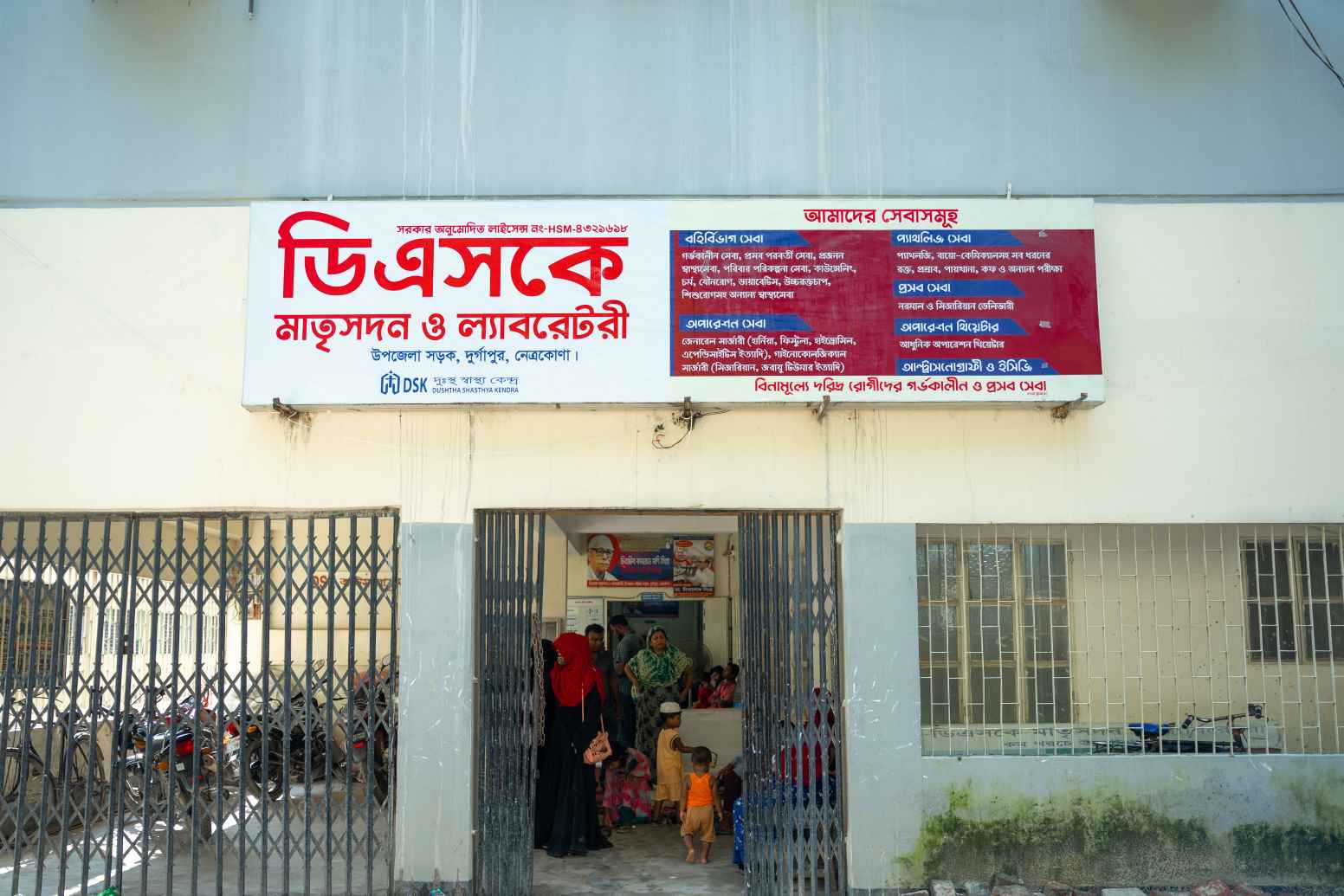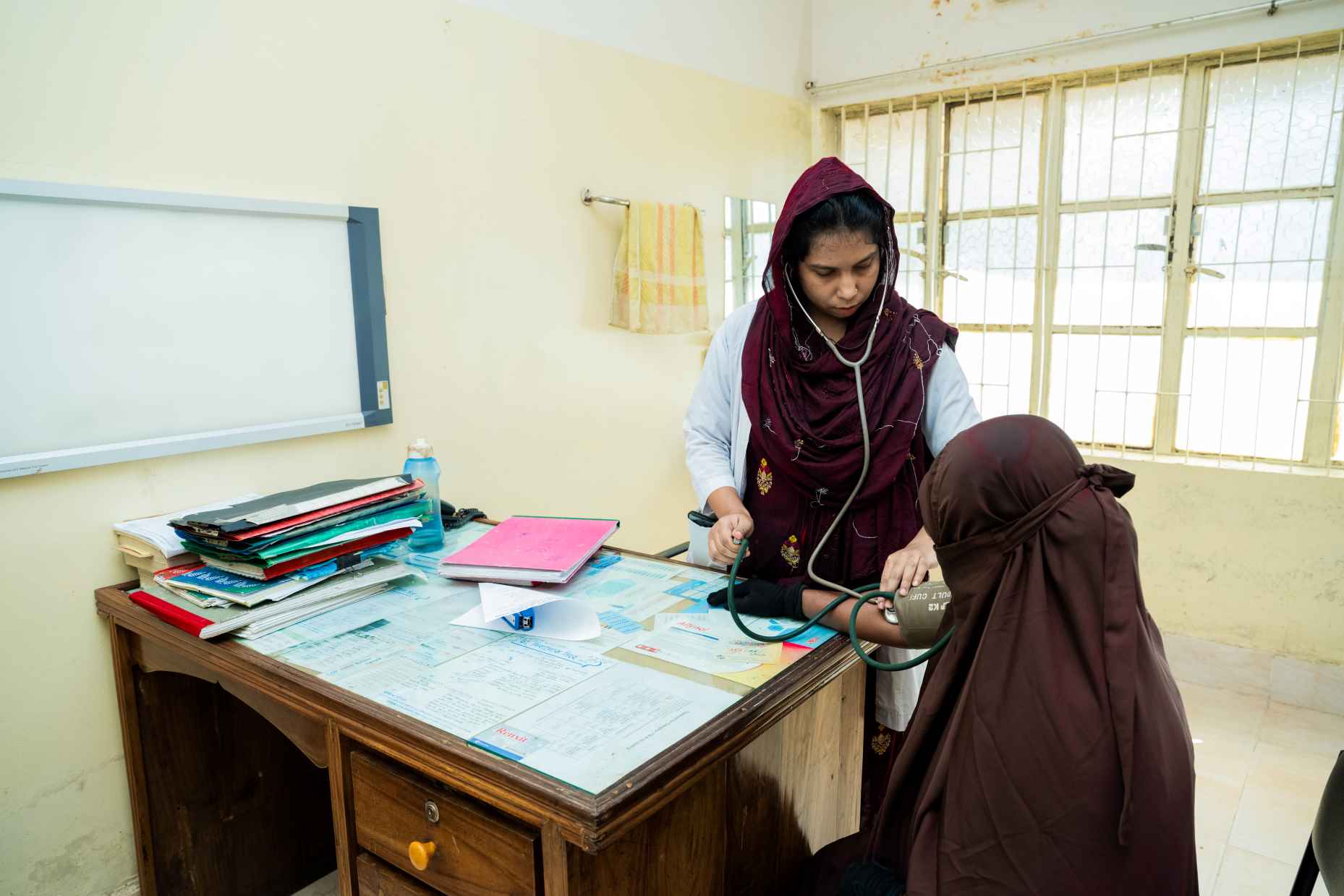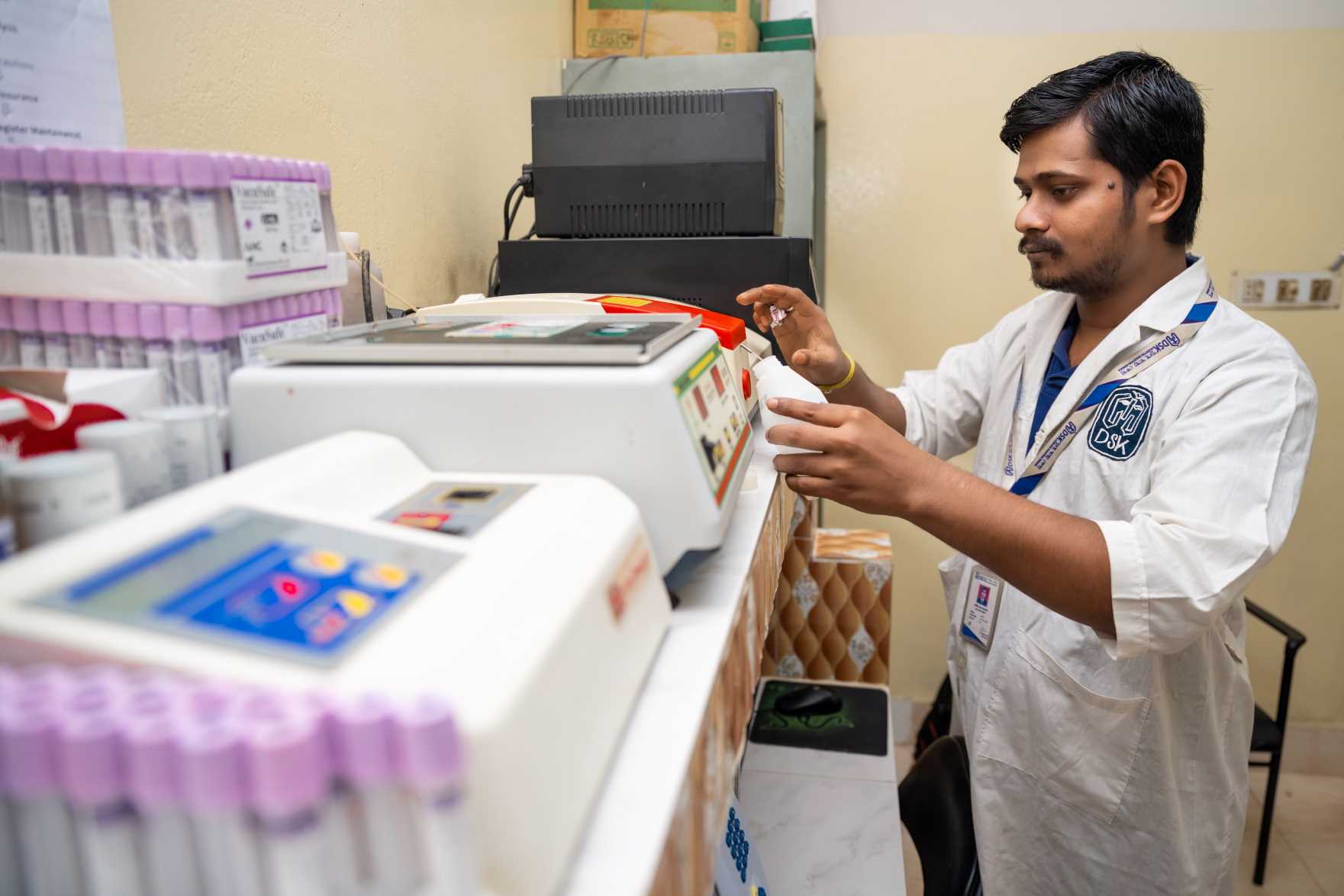 2022-2023 Fiscal Year
Served  16658 patients
438 pregnant mothers received medical services
87 mothers had a normal vaginal delivery (NVD)
203 pregnant women went through caesarean sections (CS)
2134 patients visited the hospital laboratory
2084 patients went through the ultrasound service
3920 patients have taken laboratory services
7841 lab tests
100 Other operations performed
Hospital provides
Maternity and adolescent health services
General outdoor
Regular diagnostic service
Ultrasound and Laboratory service
DSK Gazaria Clinic, Rajabari, Gazipur
Gazaria Maternity Home and Laboratory was organized in 2003 under a project supported by Plan Bangladesh on a piece of land donated by a local philanthropist. The maternity was managed jointly by Plan Bangladesh and DSK. After completion of the project in 2017, the maternity was handed over to a committee formed by local dignitaries, who have been running the maternity with guidance and support from DSK. It is a two-bedded maternity hospital with a pathological laboratory equipped with modern instruments managed by a team of 12 staff, including one Manager, one part-time Doctor, two midwives, and one lab technologist. The capacity of the maternity unit has been strengthened by procuring new equipment like 4D ultrasonography, ECG and other instruments, as well as increasing manpower. Due to space constraints, the committee intends to expand the maternity, and for that, the donor is committed to donating more land.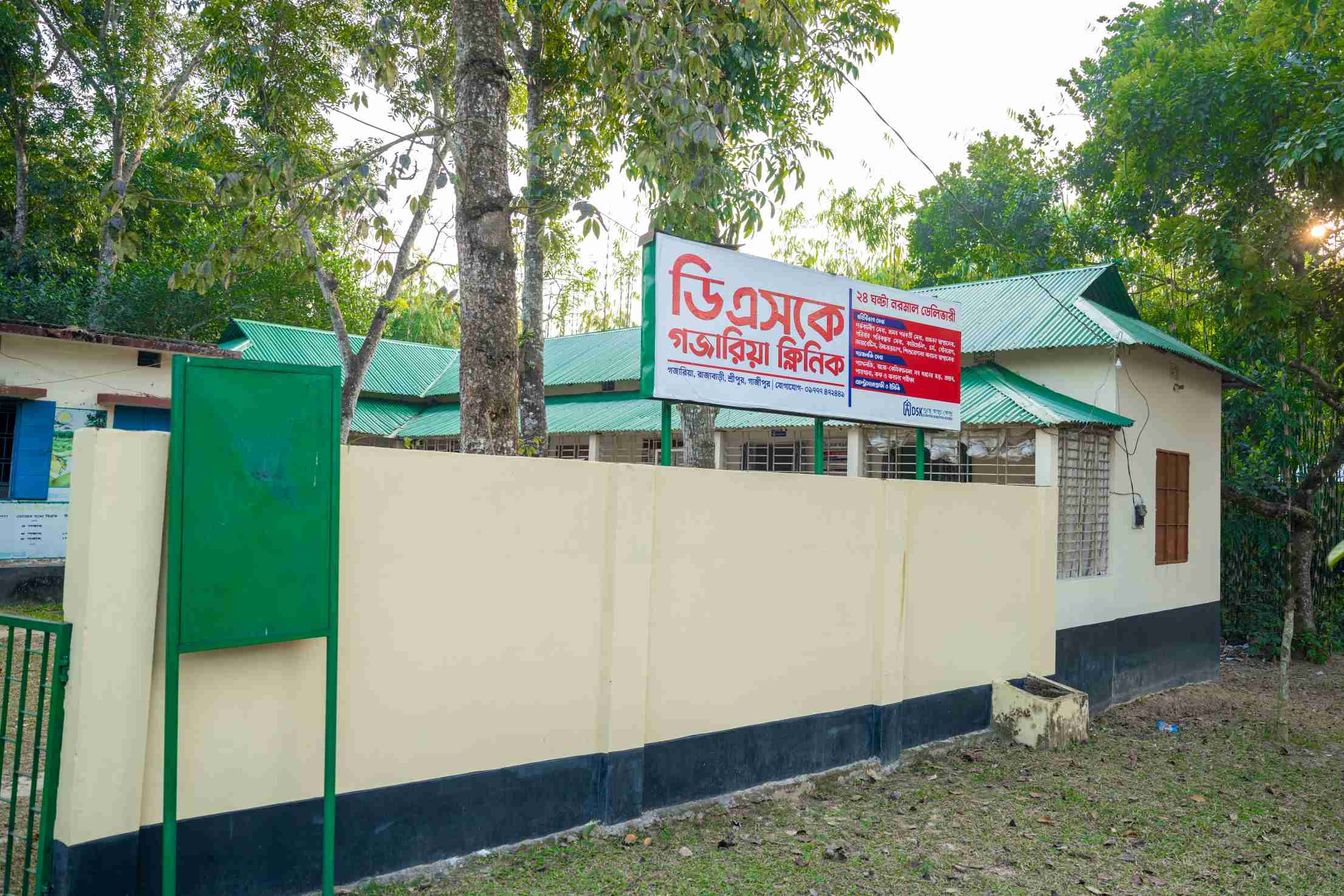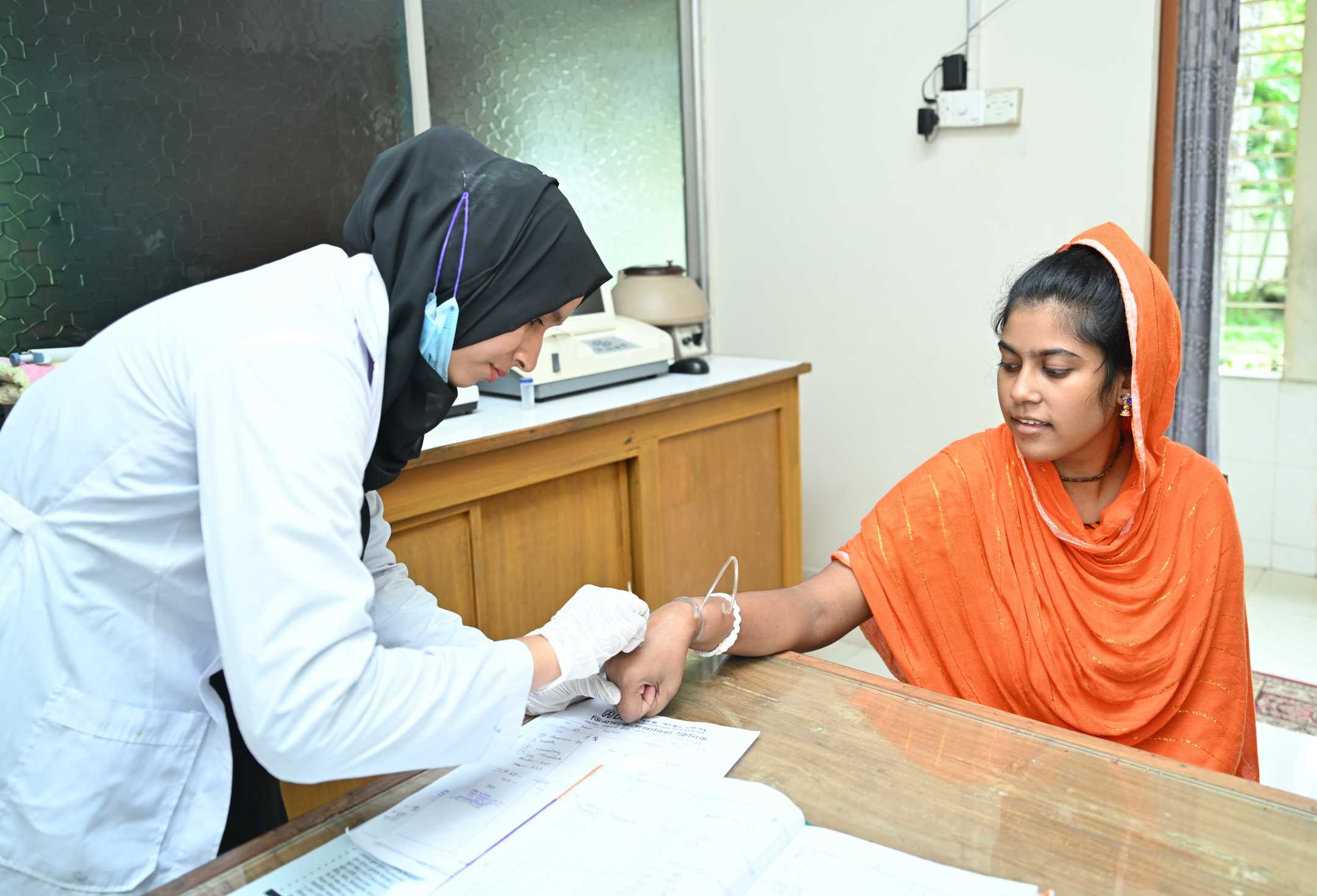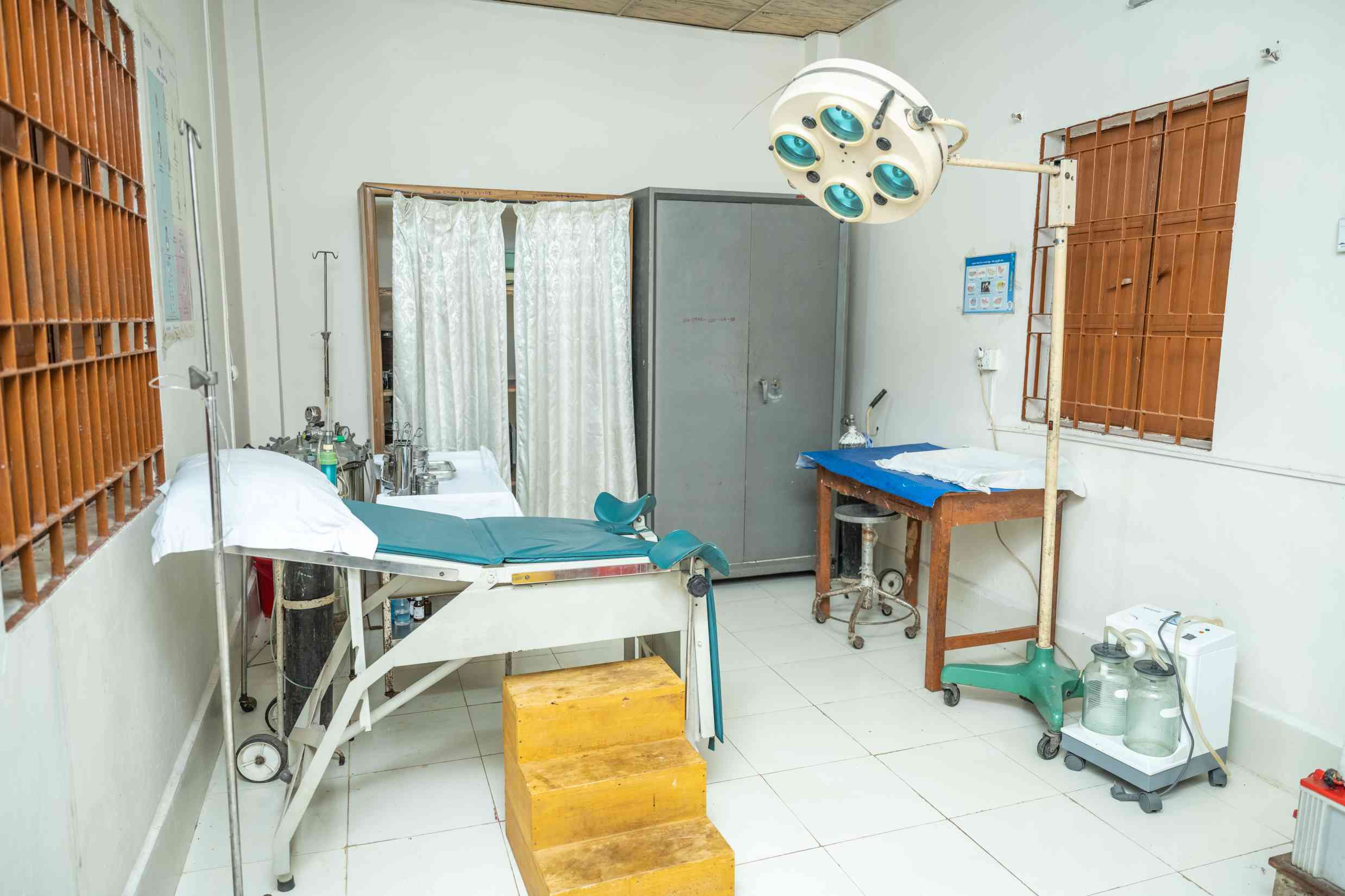 2022-2023 Fiscal Year
Served 2315 patients
696 patients visited the laboratory
1621 Lab tests
ultrasound investigations
123 pregnant mothers received medical services
71 mothers had a normal vaginal delivery (NVD)
Hospital provides
Different types of services such as delivery, pre-natal, ante-natal, ultra sonogram and adolescent health services.
Twenty types of blood tests.
Outdoor general patient consultation.
Provides ANC, PNC, NVD, Pathological Investigations, USG and Minor Injury Management services.
Proposed DSK 250-Bedded New Hospital at Birulia, Savar, Dhaka
To meet increasing demands for 'one-stop' healthcare services by target populations, DSK has undertaken a project to establish a new 250-bed modern hospital with a nursing institute to provide quality healthcare services at a reasonable price. For this purpose, 3 Bigha land has been purchased at Birulia, Savar, Dhaka. The project is now in the planning process.