Strengthening WASH services in Health Care Facilities through implementing WASHFIT in 16 Upazila Health Complexes.
WASH in Health Care Facilities (HCFs) is an integral part of quality of care. It is a prerequisite for quality of care including safe, effective, and dignified health care services and infection prevention and control. Lack of basic and adequate WASH services in HCFs can endanger patients, health providers and communities. However, even in facilities where required WASH infrastructure is available, the quality and functionality of services are often inadequate or inappropriate and hence pose a difficulty in maintaining quality at HCFs. WHO and UNICEF developed WASH FIT to improve WASH in health care facilities globally to achieve SDGs ( SDG-3: Good health and Wellbeing and SDG-6: Clean Water and Sanitation).
To integrate WASH in Health complex to improve comprehensive Quality of Care (QIC) Ministry of Health and Family Welfare, Government of Bangladesh develop a National Strategy WASH in Healthcare Facility 2019 to 2023 A Framework for Action.WASH FIT (the Water and Sanitation for Health Facility Improvement Tool) is a risk-based management tool for different level of healthcare facilities covering key aspects of 1. Water 2. Sanitation 3. Health care waste 4. Hand hygiene 5. Environmental cleaning 6. Energy and environment and 7. Management and workforce. WASH FIT provides a framework to develop, monitor and continuously implement an infrastructure improvement plan and prioritize specific WASH actions. WASH FIT implementation involves a five-step process WinHCFs (figure beside).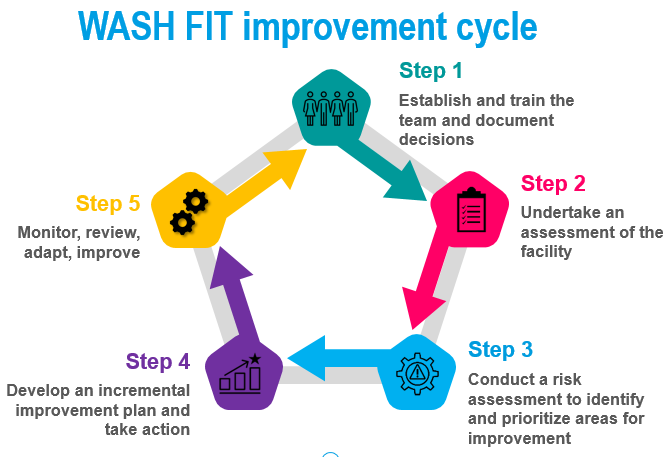 Objective: To improve quality of care by improving and strengthening WASH components in Health Care Facilities (HCFs).
| Budget | Duration | Donor |
| --- | --- | --- |
| BDT. 19,400,029.00 | July 2023 to March 2024 | UNICEF |
Implemented area:
Sl No
Upazila
District
Division
01
Daulatkhan Upazila Health Complex

Bhola

Barishal

02
Lalmohan Upazila Health Complex
03
Borhanuddin Upazila Health Complex
04
Raiganj Upazila Health Complex

Sirajganj

Rajshahi

05
Shahzadpur Upazila Health Complex
06
Ullapara Upazila Health Complex
07
Fulbari KG Upazila Health Complex

Kurigram

Rangpur

08
Nageswari Upazila Health Complex
09
Ulipur Upazila Health Complex
10
Tarail Upazila Health Complex

Kishoreganj

Dhaka

11
Pakundia  Upazila Health Complex
12
Austagram Upazila Health Complex
13
Jhenaigati Upazila Health Complex
Sherpur
Mymensingh
14
Kachua BH Upazila Health Complex
Bagerhat
Khulna
15
Dowarabazar Upazila Health Complex
Sunamganj
Sylhet
16
Sulla Upazila Health Complex
Achievement of fiscal year (current year):
All staff deployed/Staff on-board.
Staff foundation training.
Inception report submission