Dushtha Shasthya Kendra (DSK) is a non-government development organization (NGO) working to eliminate poverty of the targeted poor Bangladeshi population in selected hard-to-reach remote areas (Wet Land, Coastal Belt, Urban Slums and deep poverty pockets) of the country. DSK was established in the late eighties of the last century following the spirit of Bangladesh's Liberation War of 1971. The DSK aim is to realize the basic needs of the poor, marginalized and disadvantaged people and to build a society free from exploitation and deprivation.
| No. of places operating | Operating places (Urban) | Operating places (Rural) | No of Employees | Gross Budget |
| --- | --- | --- | --- | --- |
| 119 Upazilas (sub-districts) of 22 districts through 150 field offices | Dhaka, Chittagong, Gazipur, Mymensingh, Narayanganj, and Khulna cities | Jamalpur, Netrakona, Sunamganj, Kishoreganj, Narshingdi, Narayanganj, Munshiganj, Satkhira, Jessore, Barguna, Bagerhat, Comilla and Cox's Bazar. | 2,848 [Female: 1,123 & Male: 1,725 (June 2022) accordingly]. | BDT 3681.54 Crore / USD 335.03 million (2023-2024) |
Following this dream, an effort initiated by a group of people like professionals, doctors, and social activists who came forward voluntarily to facilitate Primary Health Care (PHC) activities under a cost-free health clinic named "Niramoy Free Friday Clinic" operating in slums in Tejgaon of Dhaka city in the mid-1980s. Consequently, during the great flood in 1988, DSK carried out a number of free healthcare service camps with a Medical Team to provide immediate relief and health care to flood-affected people in Dhaka city. At this stage, DSK as an organization became formalized and got registered as an NGO with the Directorate of Social Services (Dha 02273) on 24 April 1989 and in 1991 with NGO Affair's Bureau (No 577). Besides, DSK received a license from the Microcredit Regulatory Authority (MRA No 02100-01985-000369) in 2009.
Since its inception, DSK has been working towards alleviating poverty and improving the living standards of the urban poor and disadvantaged people in remote rural areas of Bangladesh. DSK believes and practices a collective governance system in managing DSK. The General Body, the Executive committee, the Management Authority, and, above all, the staff at various levels have been working together for the fulfillment of the Vision, Mission and Objectives of the organization.
About one million families are linked with DSK. The poor people in urban, rural areas, including urban slum dwellers, are the target population of DSK's development work. The participation and empowerment of the intended population, especially the poor women, is an essential element in every step of the development work of the organization. For this purpose, DSK is particularly keen on building grassroots organizations, or CBOs, to mobilize collective voice of the marginalized. In addition to enhancing their organizational capacity, along with DSK management, CBOs have been continuously advancing the work of implementing the projects, establishing people's rights, and instituting the access and engagement of poor people in public-private service provisions.
DSK Thematic Areas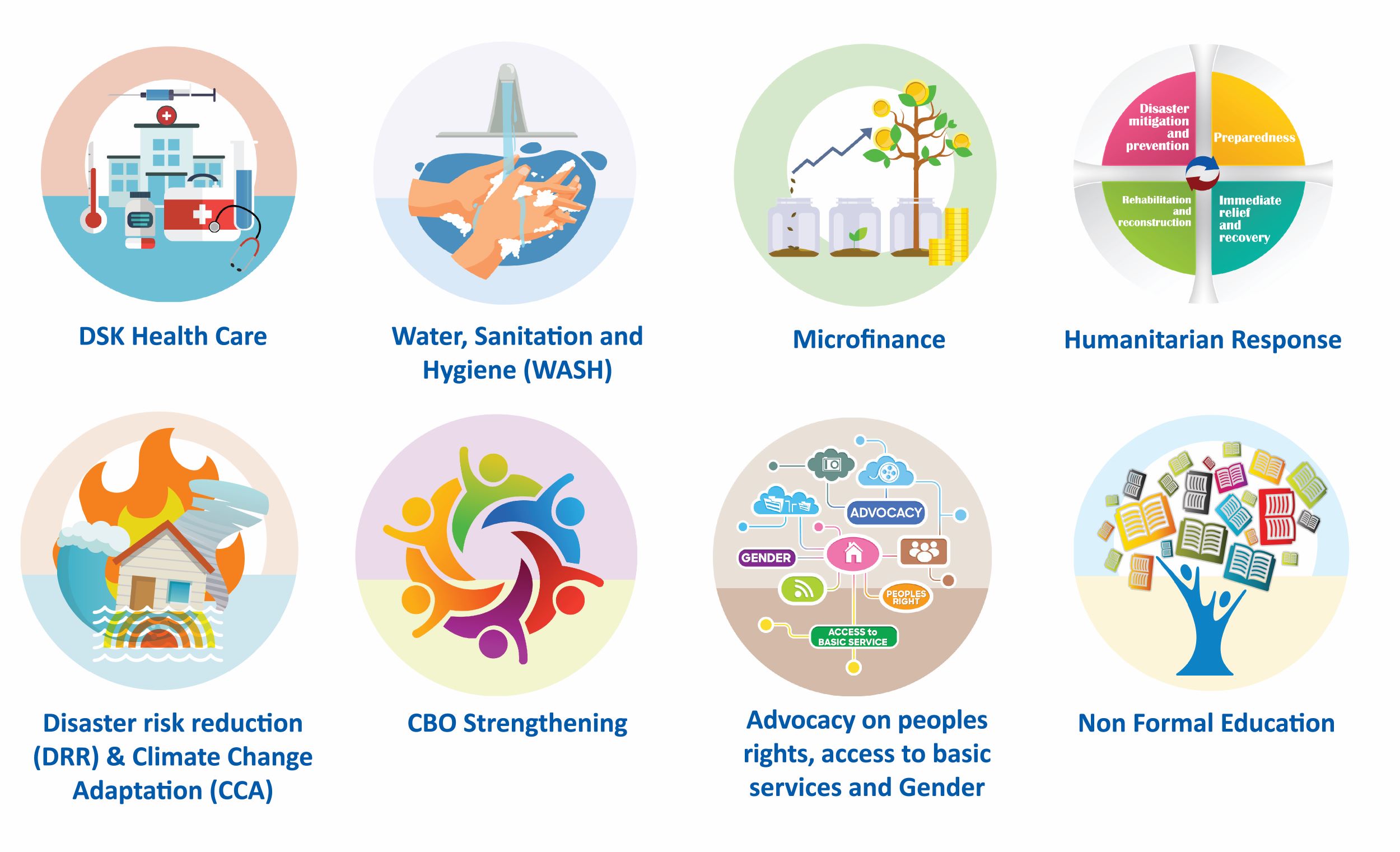 Address
House No – 741, Road No – 09
Baitul Aman Housing Society
Dhaka – 1207, Bangladesh
+88 (02) 48115079, +88 (02) 8190809, +88 (02) 58153413
88 (02) 8115764 Ext 123