In order to provide hospital-based healthcare services at an affordable price to low-income population and middle-income group, DSK Hospital was established in 1999 named "DSK Hospital" at a rental house in Dhaka having grant support from Swiss Red Cross (SRC). SRC supported hospital activity for five years.  After the closure of that grant period, from 2005 DSK started to continue hospital functioning through the use of its resources.
DSK Hospital is located in its four-storied building. It has twenty one general beds including 3 AC cabins & 2 non ac cabins. It structurally contains two operation theatres with necessary modern medical equipment, a laparoscopic machine, post-operative room, emergency OT room, and specialist doctors' chambers. 42 staff along with 1 regular specialist & 50 on call consultants ensure quality services at the hospital.
2019 – 2020 Fiscal Year
Served 3547 patients
2355outdoor patients
1192 indoor patients
285 ultrasound investigations
506  X-ray investigations
2175patients visited the laboratory
6311 lab tests
597 different operations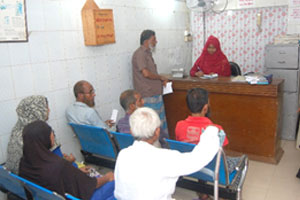 Special services of DSK Hospital are:
A poor fund to support those extremely poor patients who are unable to pay the treatment cost.
Members of the DSK Micro-credit Program and their eligible family members receive treatment at DSKH under a referral system which is getting reimbursement up to Tk. 10,000 (ten thousand) of their treatment cost under the Micro-Health Insurance Policy of the program.
A Complain Box has been installed in order to get feedback from patients/ attendants in a front place
An exit interview system using a structured questionnaire at the time of patient release has been introduced regarding quality of services, cleanliness and responsiveness of staff members
Follow-up on health status of discharged patients is taken over telephone within two weeks of release
Services of DSK Hospital
Outdoor and indoor and investigation services inclusive of Laboratory, X-ray, and ultrasonically
Specialist counseling
24 hour ambulance
Consultation services by qualified and experienced consultants on Medicine and Surgery
Obstetrics
Gynecology
Pediatrics
Orthopedics
Cardiology
Urology
Nephrology
Hematology
Diabetology.
Skin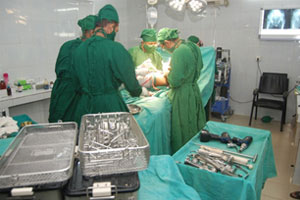 DSK Matri Sadan (Maternity) and Laboratory at Durgapur in Netrakona
Durgapur Matri Sadan and Laboratory was established in 2007. It is open for 24 hours. Hospital is in a three-story building where Hospital occupies two floors. This is a ten-bed hospital & maternity service at Durgapur in Netrakona. Till 2019 EKN financed UBR project that supported the Maternity services. This hospital is equipped with operation theatres and male and female wards.
 2018-2019 Fiscal Year
Served 7,770 patients
1984 pregnant mothers received medical services
274 mothers had a normal vaginal delivery (NVD)
150 pregnant women went through caesarean section (CS).
2134 patients visited the hospital laboratory
567 patients went through ultrasound service.
Hospital provides:
Maternity and adolescent health services
General outdoor
Regular diagnostic service
Ultrasound and Laboratory service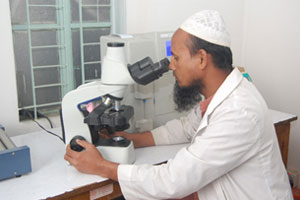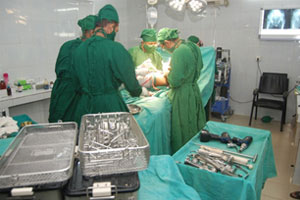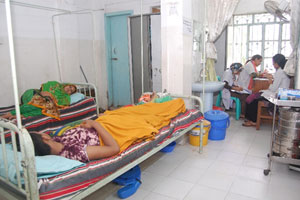 DSK Maternity at Razabari, Sreepur, Gazipur
Founded in 2003, Gazaria Maternity Home and Laboratory runs in Shripur upazila of Gazipur district with five staff. Plan Bangladesh and DSK have jointly run the maternity home. When Plan Bangladesh completed its project in December 2017, the Maternity was run by a committee constituted by dignitaries in the area. So far the Maternity has been conducting its service operations with the financial grant of DSK. It is open for 24/7 (on call). This is a two-bed Maternity Home.
2019-2020 Fiscal Year
Served 800 families
Budget BDT 6,24,164.
Maternity Home provides
Different types of services such as delivery, pre-natal, ante-natal, ultra sonogram and adolescent health services.
Twenty types of blood tests.
Outdoor general patient consultation.
Provides ANC, PNC, NVD, Pathological Investigations, USG and Minor Injury Management services.