Celebrating Golden Jubilee of Independence
Bangladesh celebrated 50 years (Golden Jubilee) of Independence in 2021 coinciding with the birth centenary of the Father of The Nation, Bangabandhu Sheikh Mujibur Rahman (Mujib Borsho). After a nine-month-long bloodstained war of independence in 1971, the name of Bangladesh sparkled on the world map. The red and green flag, which proudly flies across Bangladesh and the world, continues to serve as a symbol of the country's determination to resist and battle injustice. This is the indomitable spirit embodied and transmitted by the Father of the Nation Bangabandhu Sheikh Mujibur Rahman. Fittingly, the golden jubilee of the heroic victory coincides with the celebrations marking the birth centenary of the greatest Bengali to have ever lived. Therefore, the celebration of the Golden Jubilee (Subarna Jayanti) of our independence is of great importance.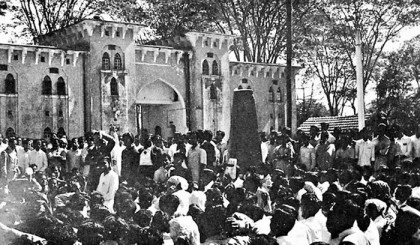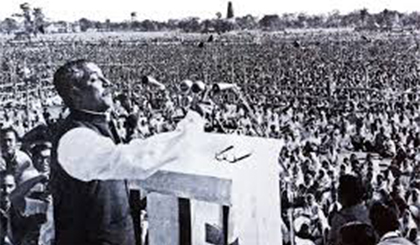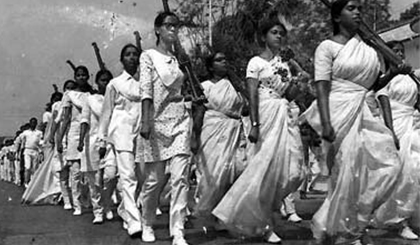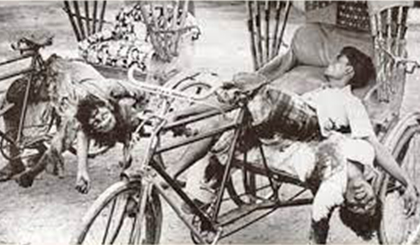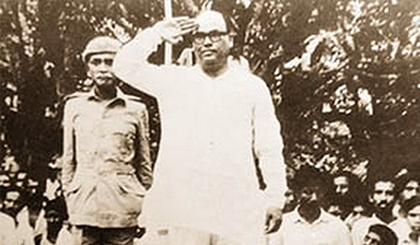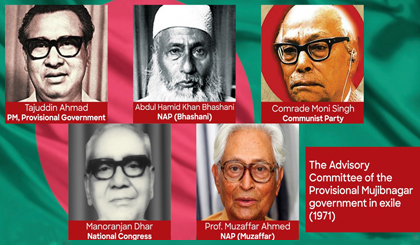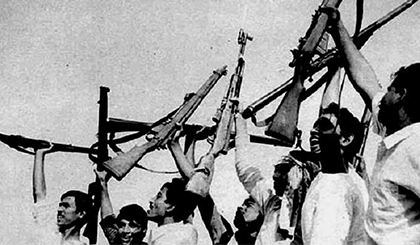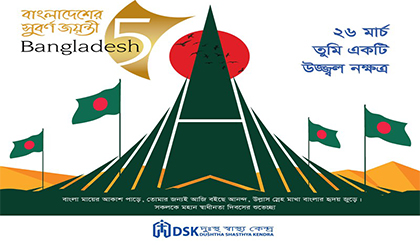 The banner was displayed in honour of the golden jubilee in 3 hospitals and 225 branches of microcredit and project including DSK Head Office. At the same time, the entire office was illuminated.
The cover page of the DSK Activity Report (2021) was designed to honor the 50th anniversary of the Great Liberation War.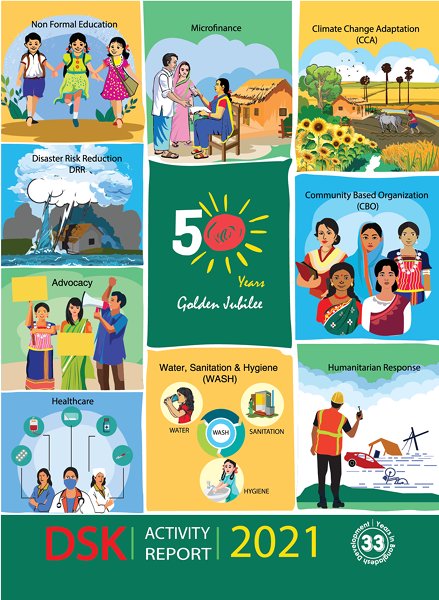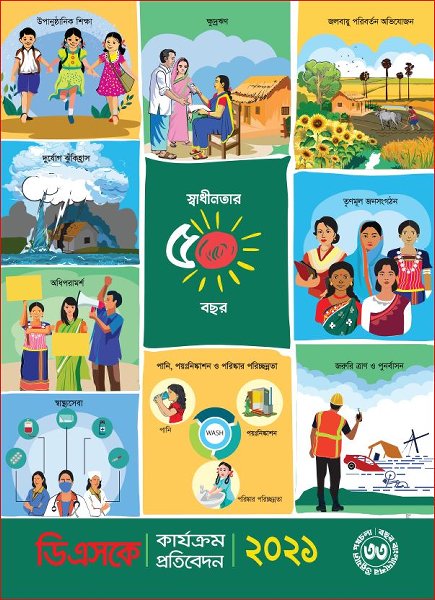 In honour of the 50th anniversary of the liberation war in Dushtha Shasthya Kendra, host a discussion session and cultural event at the headquarters. The Vice President, Professor Dr. Nur Mohammad Talukder; the Secretary-General, Professor Dr. A S M Golam Mortuza; Executive Director, Dr. Dibalok Singha; Director (Health), Dr. Mahmudur Rahman, as well as employees and medical professionals from the head office and hospital, attended the session. The discussants highlighted the various aspects of the liberation war through the remembrance of the liberation war and enlightening informative discussions.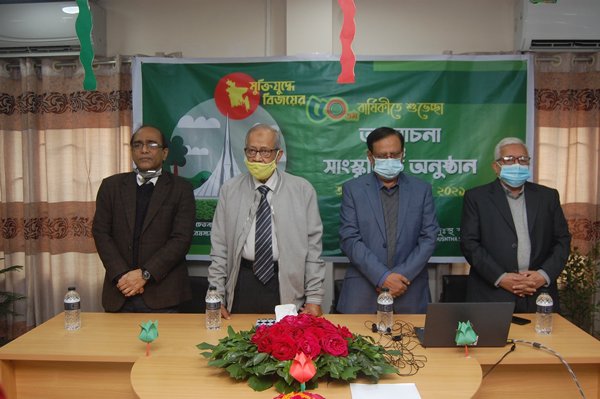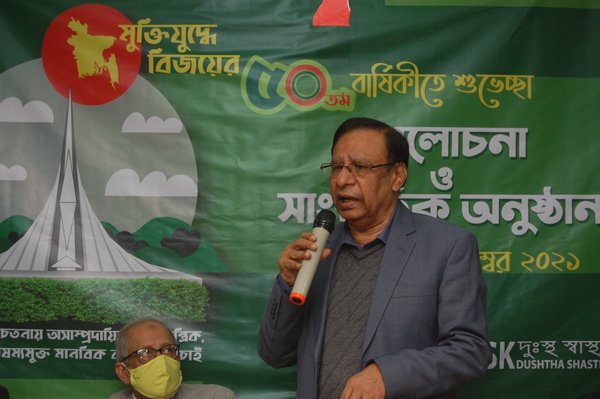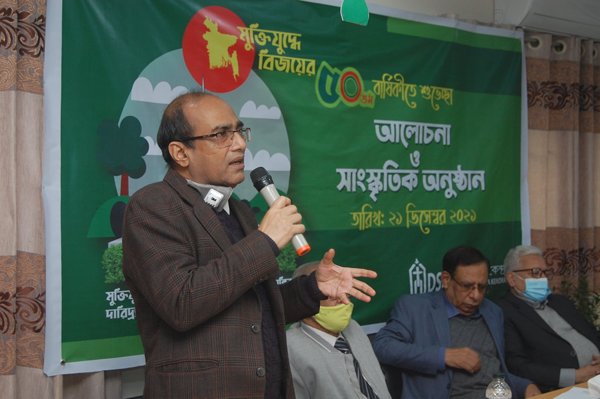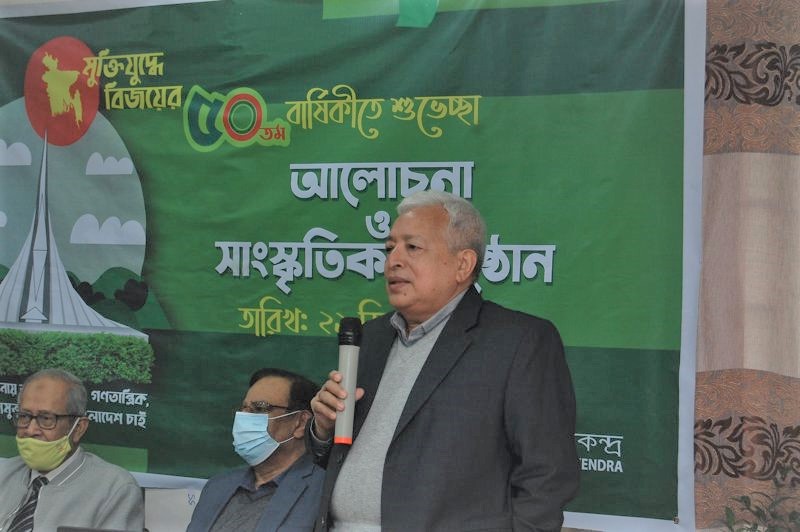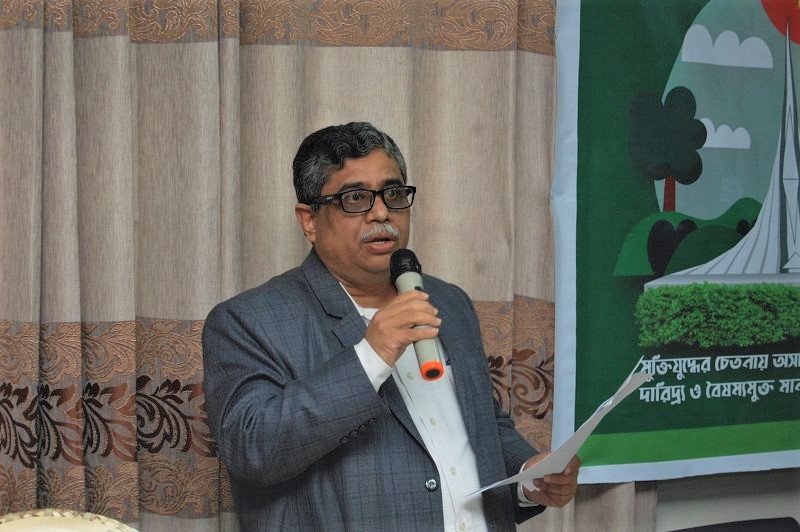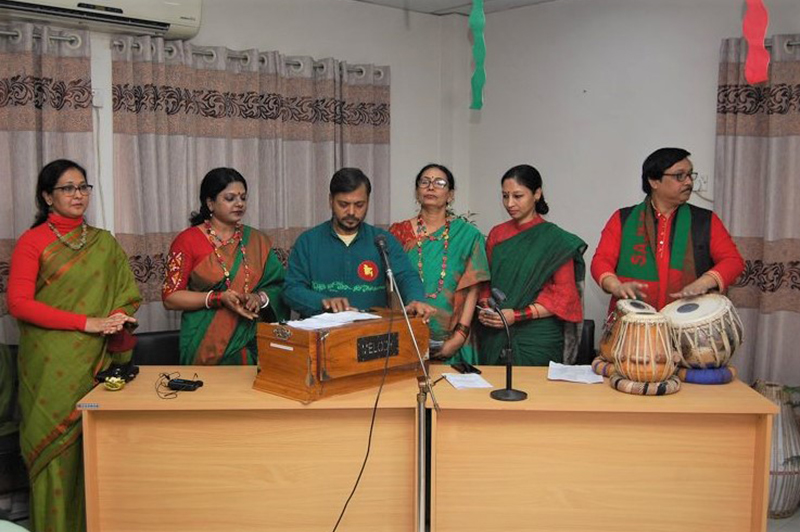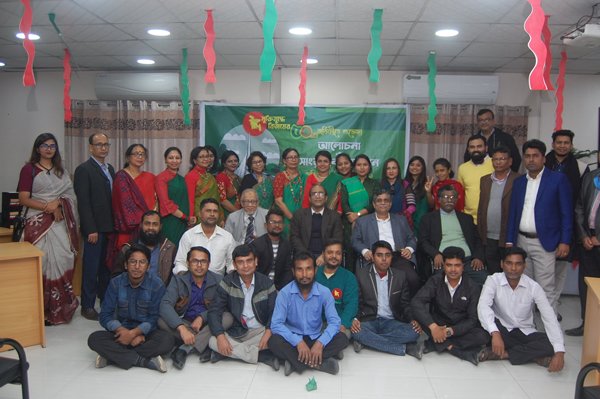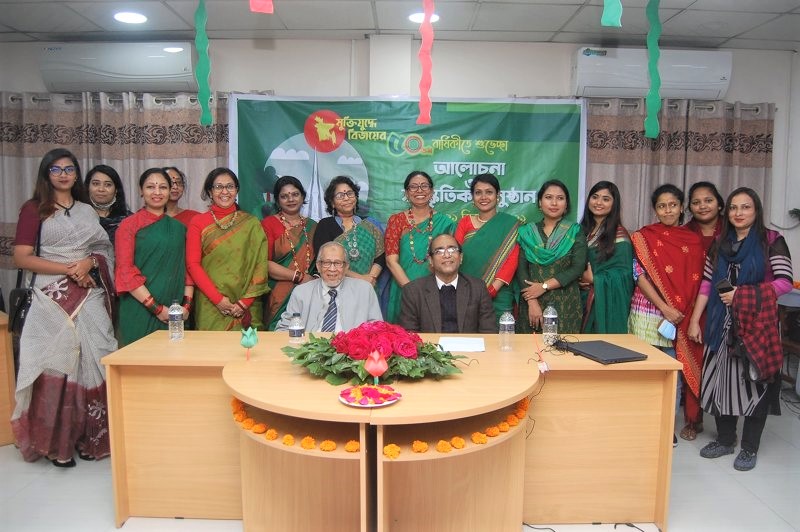 On the eve of 26th March (24th), we DSK celebrated "Independence Day of Bangladesh 2022" with our freedom fighters who stake everything for our sovereignty against Pakistani oppressors in 1971. On the day we hosted a vibrant ceremonial to show our unconditional heartfelt esteem towards our national heroes which was followed by reverencing and honouring our freedom fighters, cultural program and extraordinary dialogue given by freedom fighters and treasured guests who were present at the ceremonial.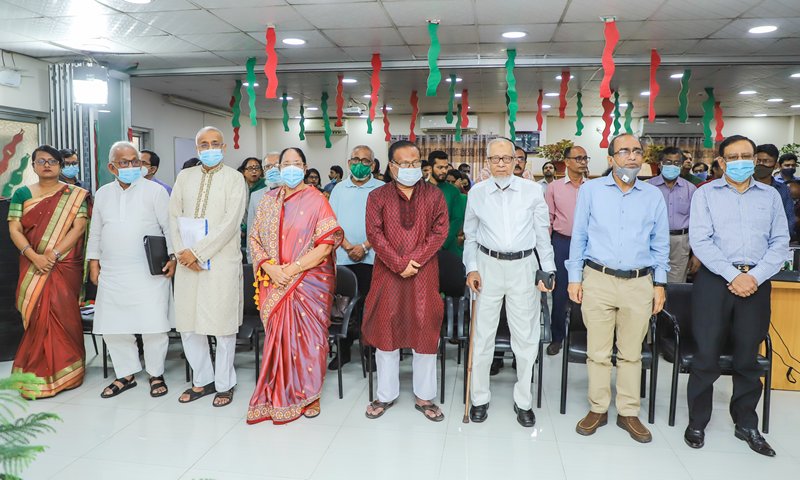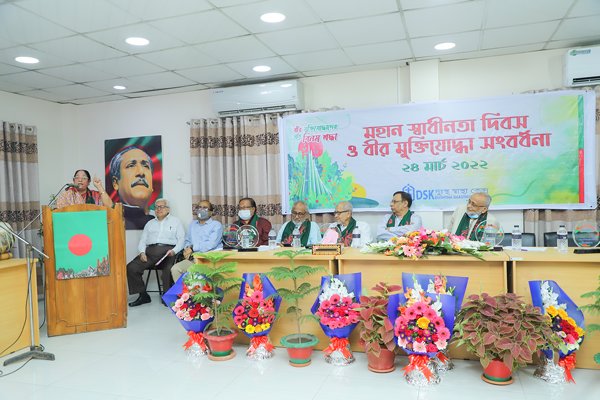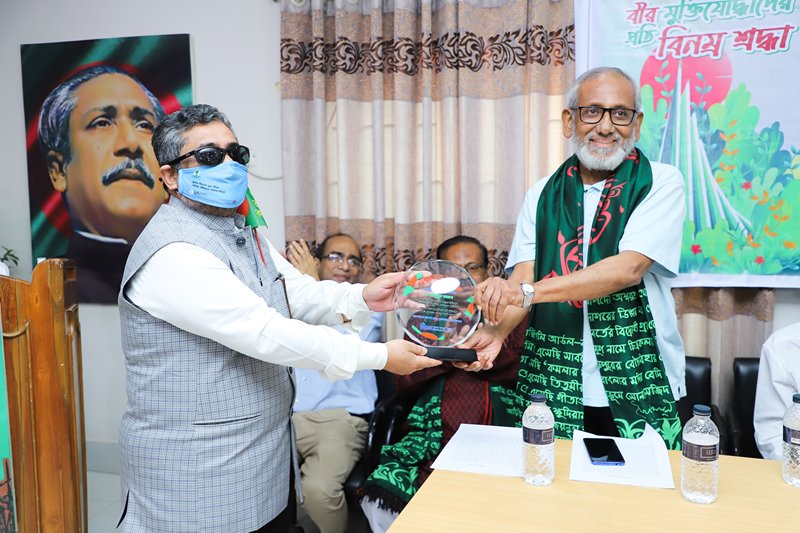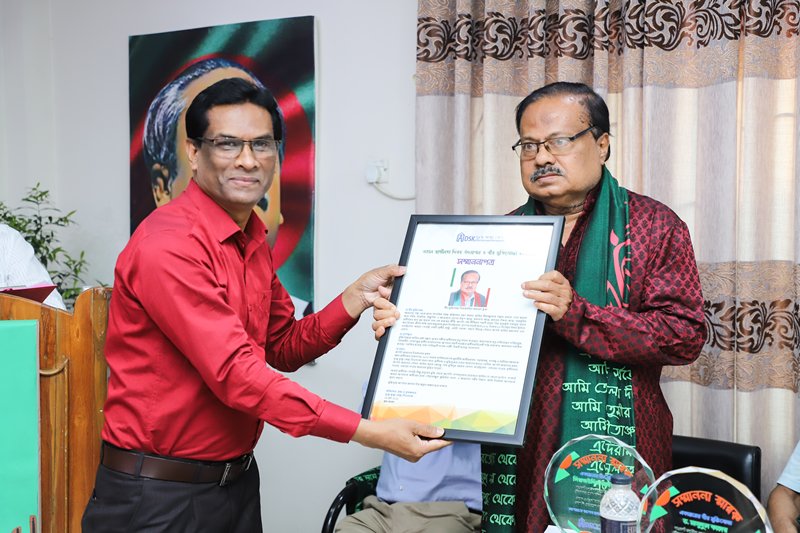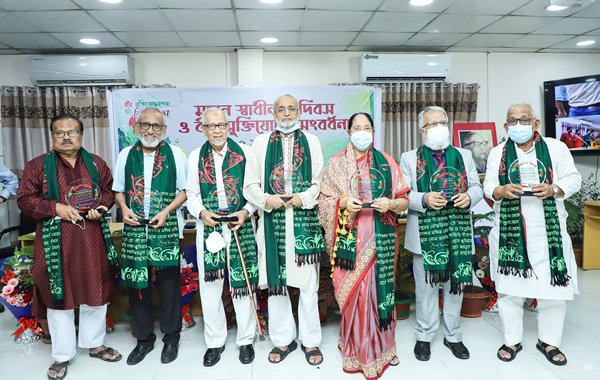 DSK created a diary and calendar for the Golden Jubilee that was given to every employee in the spirit of the Liberation War.